A Guide To Classic Handbag Styles


Tote bags, camera bags, clutch bags, oh my! The world of handbags is vast and is only getting bigger as each new season introduces us to fresh shapes and handbag styles to lust after. Whether you've got a big collection or don't know where to start, it can be hard to decide which bag to carry where, and what all these styles even look like. From crossbody straps to top handles, it's hard to keep track of all the different handbag types and what they mean, so we're here to help. Laying it out nice and simple, here is our guide to classic handbag styles and shapes. 
#1 Tote bag
The simplest and most versatile casual bag around, a tote bag is a simple one pocked back that is usually quite big to fit all your essentials and shopping. Most commonly made of either canvas or leather, a tote is a definite must-have for commuting to work or taking into town as a way to say no to plastic bags. Brands like Kate Spade and Michael Kors level the handbag style up by creating beautiful leather tote bags with subtle metal detailing, giving the casual style a more formal and classy finish that's perfect for work or travelling. Likely fitting your laptop, purse, charger and book, a tote bag is the ultimate go-to handbag style for heavier packing days. 
#2 Clutch bag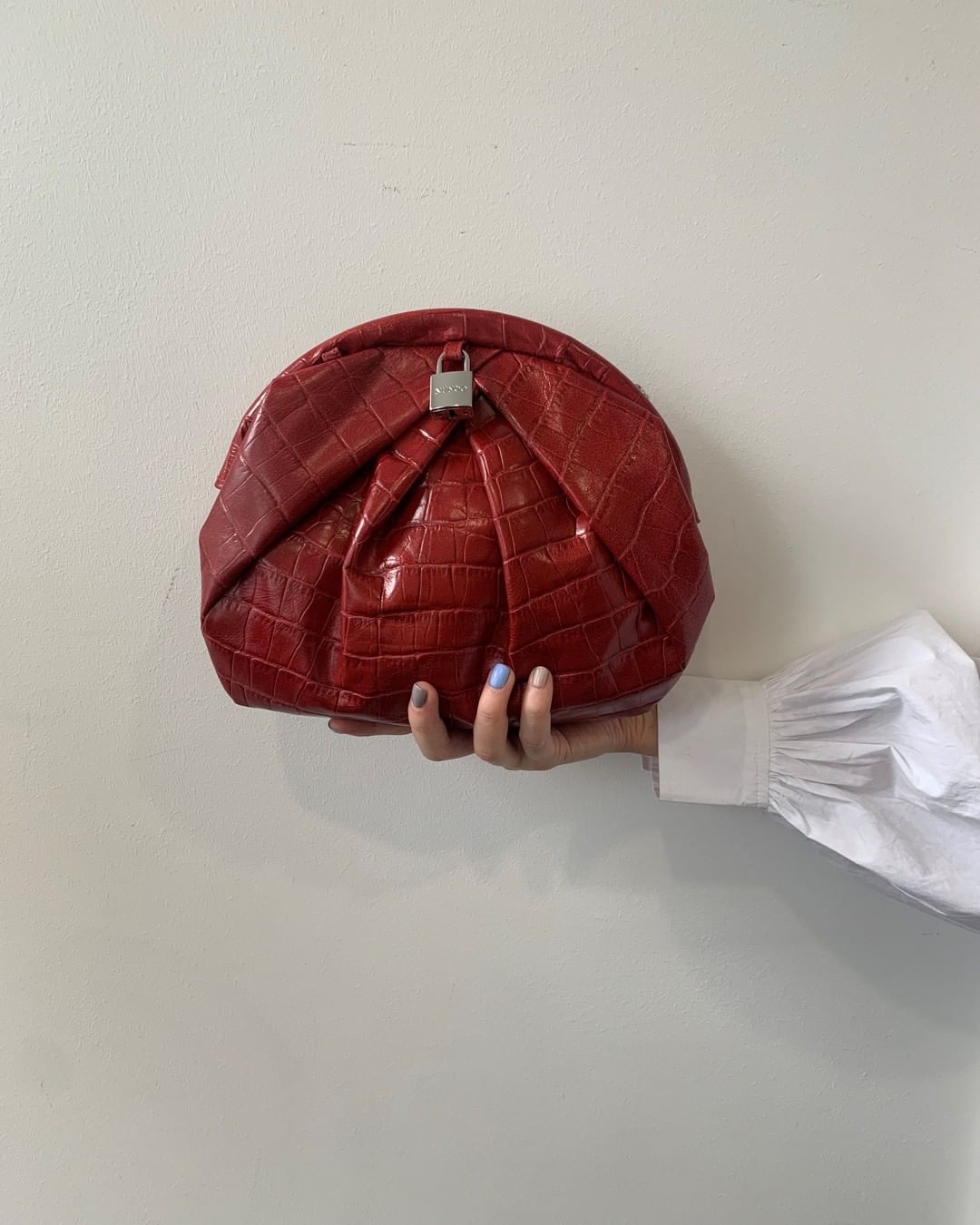 On the opposite end of the spectrum, a clutch bag is an all-time favourite for formal occasions and parties. Small and dainty, clutch bags normally don't have a strap, instead being held at the top or with a wristlet. Sometimes called a grab bag, or being labelled as an oversized purse, the clutch bag comes in a huge range of styles from simple envelope clutches to shrunken-down versions of your favourites. With just enough room to fit your phone, wallet and lipstick, a clutch bag is the one for dressier occasions where you don't want to take the focus off your outfit with a big bulky bag. 
#3 Top handle bags
When you picture a classic handbag, you likely imagine a top handle bag swinging by the side of iconic starlets like Marilyn Monroe. Usually keeping a rigid shape made of thicker leather, top handle bags, also known as grab bags, are more structural and high-maintenance in their retro glam and traditional trapeze shape. Where you carry your top handle bag is totally up to you, able to be dressed up or down depending on their material, colour and finish. If you're after a bag that's going to feel really luxurious to carry and look special, a top handle bag is a great choice as one of the most classic handbag styles around. 
#4 Camera bag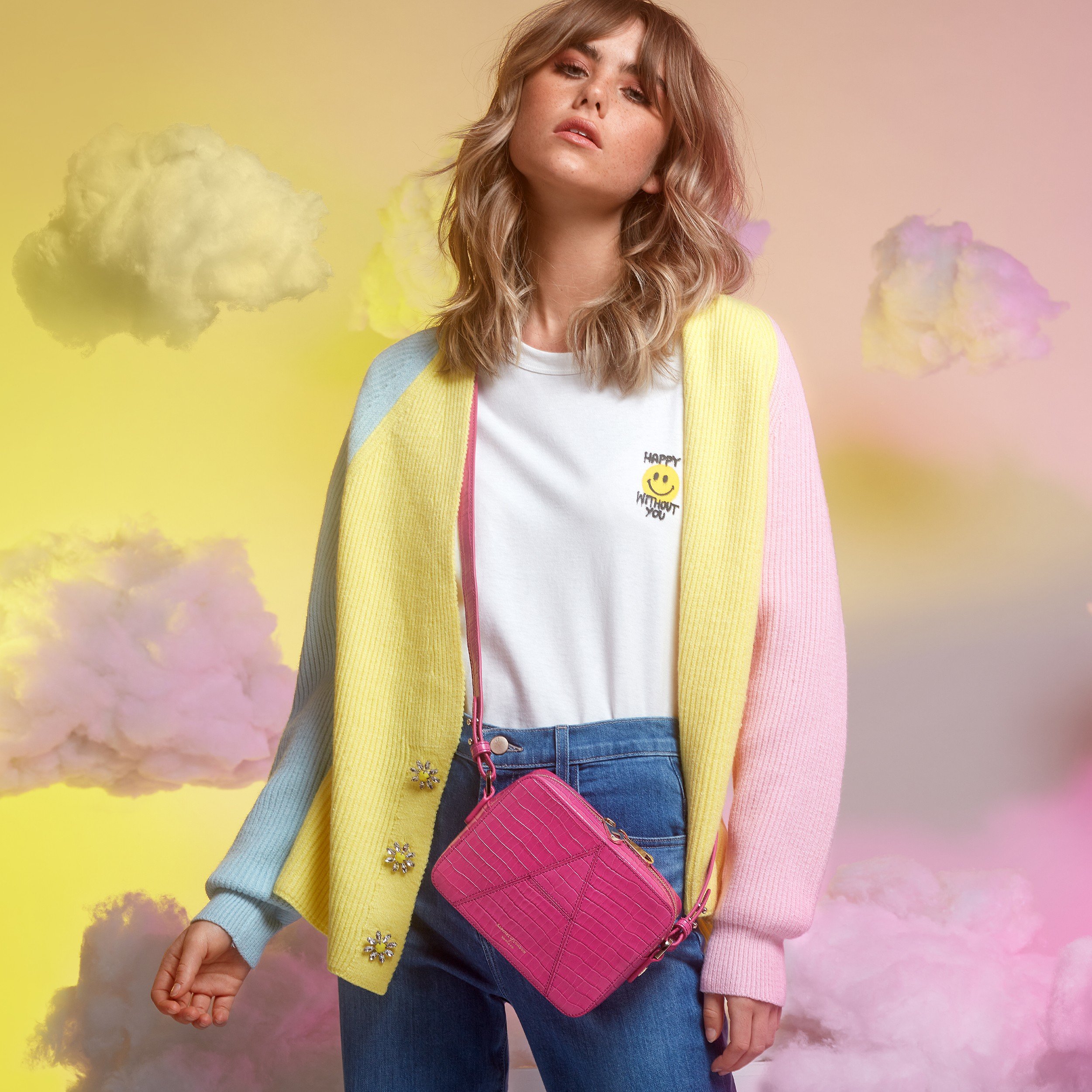 A new-ish style, camera bags have totally blown up in popularity. Thanks to the Marc Jacobs Snapshot, camera bags are all over our insta-feed as the ultimate everyday luxury bag. Taking inspiration from old leather camera cases, camera bags have a rigid rectangular shape usually with rounded corners. Just as camera cases were slung over one shoulder, camera bags usually have a long strap that can be extended or shortened to suit but are mostly worn cross-body. Worn over your big winter coat or as a toned-down option for drinks with the girls, this is a versatile style that's big enough to hold your essentials. We love our camera bags in bold colours. 
#5 Belt bag
Also known as a bum bag, a belt bag is a perfect option for gigs, festivals or days when you want both hands free. No longer the embarrassing bum bag your Dad used to wear on holiday, belt bags have been levelled up with chic leather exteriors and branded detailing. Becoming a must-have for streetwear and sports-luxe vibes, belt bags are an edgier option that looks cool as a belt or worn cross-body.  
#6 Saddle bag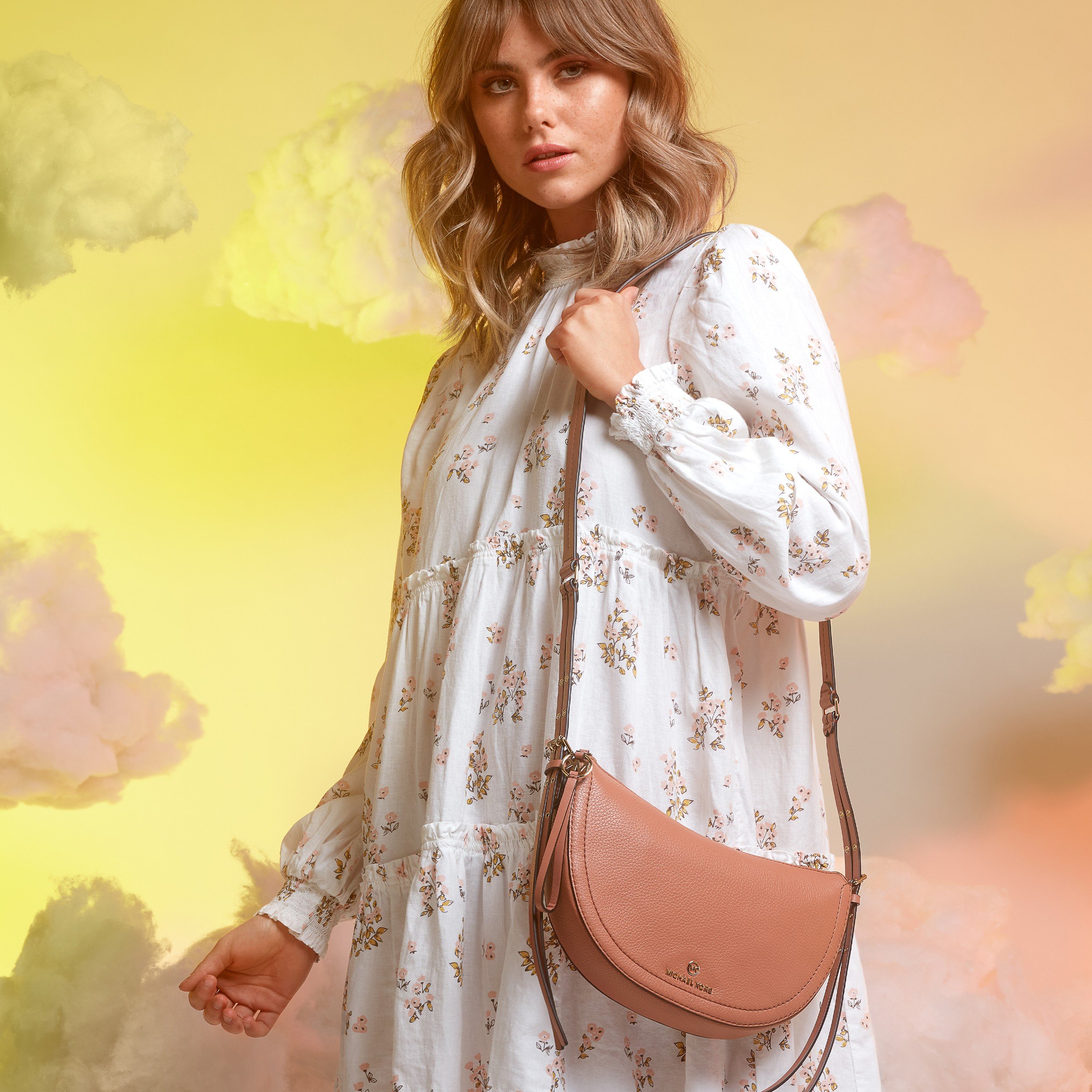 Quite literally inspired by bags that are attached to the saddles of horses, saddle bags are a real heritage style. With their signature curved shape, saddle bags are usually worn on one shoulder and sit at the hip. A firm favourite of royalty, saddle bags are a casual style that is quintessentially British and always look beautifully crafted, making them perfect for a slightly more put together day-to-day bag. With a nice depth to them, saddle bags will fit all your essentials with room to spare. 
#7 Shoulder bags
Shoulder bags are another really classic handbag style and a perfect day-to-night option. With a shorter strap, shoulder bags sit under your arm rather than hanging down. A very traditional, 'lady-like' style, a lot of the original, most-famous designer bags are shoulder bags, giving the shape a real air of luxury while still being wearable. With sizing varying, you can find a shoulder bag to suit your need from mini bags to bigger options. 
#8 Crossbody bags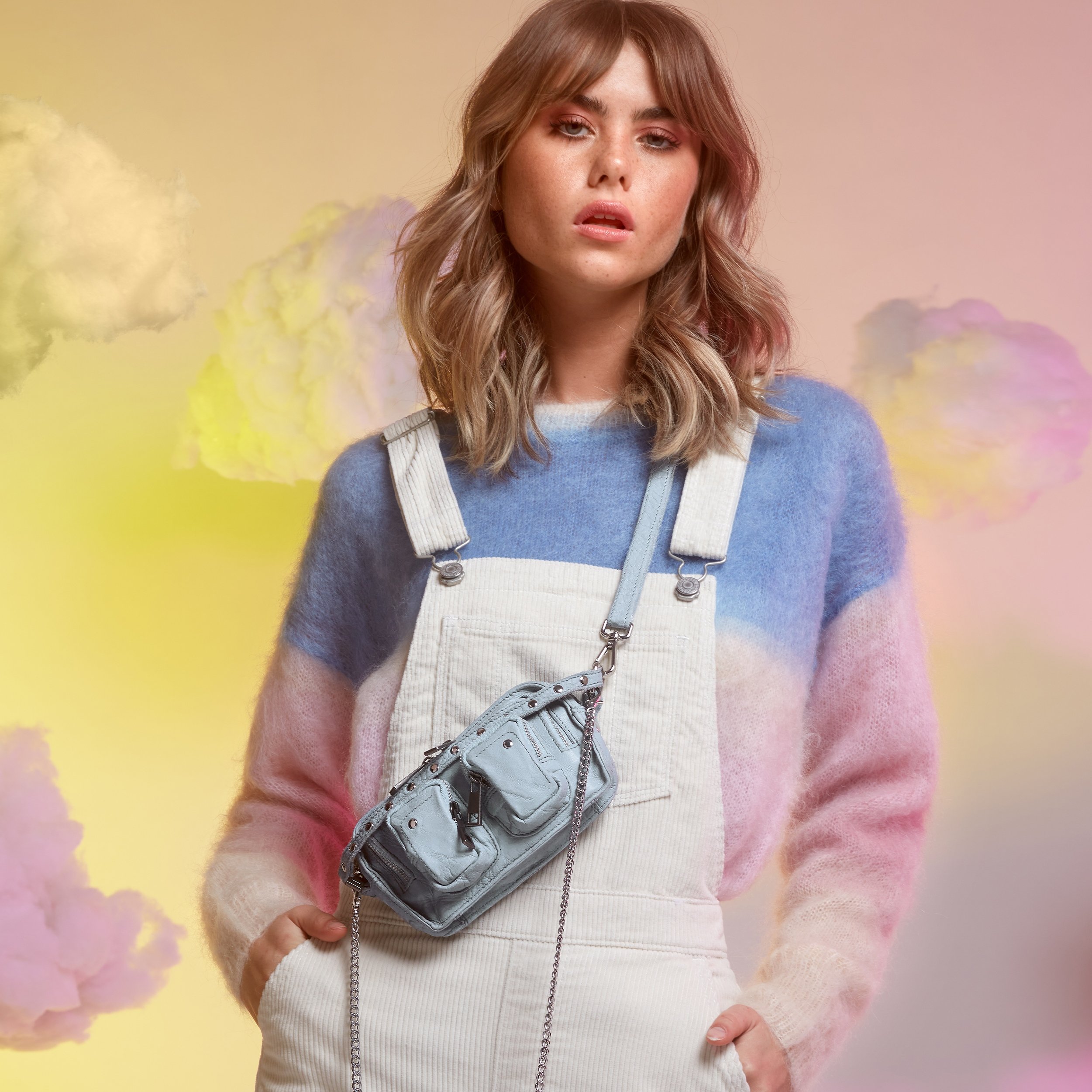 Crossbody bag is an umbrella term for a lot of different styles all with one similarity; a long strap that's worn across your body. Usually on the smaller side of the spectrum with just enough room to keep your essentials close by, cross body bags are the perfect handbag style for city shopping days or casual drinks, being a really safe and secure option. Whether you opt for a simple crossbody style like a Nunoo or something a little fancier like the Coach Tabby bag, a cross body style is super versatile for any occasion.  
#9 Bucket Bag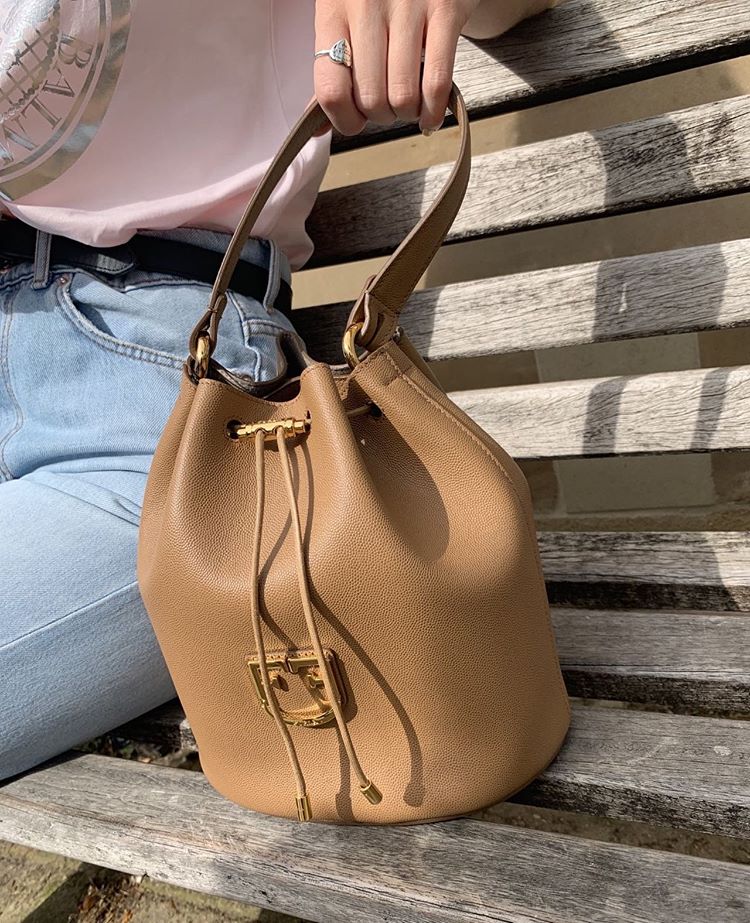 As expected, a bucket bag is a handbag style with a lot of depth. Shaped like a classic bucket, these bags are cylinder-shaped giving them loads of room to hold all your essentials, phone-charger and more. As a nice alternative to a tote, a bucket bag has clear vintage vibes taking note from Jane Birkin's signature basket or shopping bags seen around Paris in the 70s. More relaxed than a lot of other handbag styles, a bucket bag is the one for you if you're after laidback luxe.